MBS h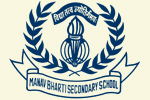 as grown immensely over the years-both in number of students and in terms of quality of education that is being imported. We believe in providing a safe and happy environment for children, where they enjoy learning.
Here children are given every opportunity to develop their full potential. This happens by encouraging each child's natural urge to explore and absorb impressions from a rich and stimulated environment which is provided through natural surroundings and the contrived situations and activities in an innovative approach.
We believe that learning is his/her adventure in spirit. Life is to be directly experienced, enjoyed and loved, concepts to be discovered, assimilated and internalized, thus leading to positive attitude towards life. We can not strive to make only those students who are satisfied with high scoring marks only. The old traditions of family and values are changing. We need to widen them to include care for society and we need to redefine what is wrong or right, keeping in mind the modern times. Our motive is to make extraordinary humans out of ordinary children besides educating them. We ensure each student to be engrossed with crowing jewels of morality and to be set up as a man of socially, mentally and morally being upright and should be a man of shining sun at the onset of life.